Whitelabel solution
Whitelabel ITSolutions
Reach out to the world's most reliable white label solution for your IT services.
Whitelable Solution for Information Technology
DDevOps specializes in technological managed IT services such as IT operations, system engineering, server management, cloud computing, infrastructure & network management, security assistance, etc.
We help organizations implement and optimize their technical systems. Our white-label program typically takes place between technology vendors who provide IT products and the agencies and companies who want to enhance their daily operations capabilities through our skills employed to deliver the service (design, build, run) from your own branding. Technically, these fall into three main categories: business process services, application services, and infrastructure services.
Reliable Whitelable Solution for Businesses

Efficient Data Security
During business transformations, there're possibilities for errors, but our highly advanced data management system spares no room for loss.

DD Management Goals
Our system is composed of currently most modern managing program, user-friendly interface and error-proof conduct methodology.

Reliable Multi-function
You can totally count on DDevOps for all things related to information management, infrastructure design, automation, and other managed IT services.

Highly Professional Staffs
Having obtained the official & formal training in IT technology and technical fields, together, our staffs know more than what you might ever think of.

Infrastructure Integration
We have a holistic and integrated approach towards core modernization to experience technological evolution that makes it work for any infrastructure.
Resources
Get a copy of complete
Service Discription.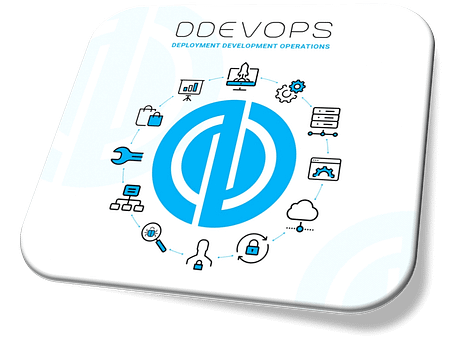 Business IT Support Features
IT Design
We provide the most responsive and functional IT design for companies and businesses worldwide.
IT Management
It's possible to simultaneously manage and transform key information from one server to another.
Data Security
Back up your files and database, store them in a safe and secure place while still maintaining its accessibility.
Business Reform
We propose feasible & practical plans for successfully transform businesses based on their needs.
Infrastructure Plan
We take into account all conditions and budgets needed for building an IT infrastructure plan.
Security Advancement
Enhancing the strength and security of your server and application to protect online data from malicious sources.
Testimonials
What makes people praise DDevOps?
Fakieheats
Zohaib Ahmed "Vantage Digital"
DDevOps is definitely one of the best solution providers for hosting services, I would rate their support as the best we have experienced, they were very quick to respond and we hardly faces any issues while working with them, most importantly their professional approach towards any request is next to none, we will definitely recommend them with high regards.
SHIPPLO
CTO "Muhammad Talha"
We were struggling for many years until we partnered up with DDevOps to manage our servers and IT infrastructure. Working with them is like having a family member who can do everything for you. I don't know how but they know what you need, exactly when you need it. I am very impressed with DDevOps.
Blue Ocean Restaurant
Zohaib Ahmed
Ddevops is one of the top hosting providers we started working with, we had some serious problems with our old host and the website started to became unstable but when we came to ddevops the services were hugely satisfied and their support is outstanding. We are very happy with the services and surely want to continue with them they are hugely recommended to anyone who is looking forward for a reliable hosting provider.
Design Intellect
Behlool Fakhruddin
I was frustrated with my current infrastructure provider, however, I still need something that could help and support me technically, luckily one of my colleagues refer me to DDevOps. I did the meeting and as a result, their solution, pricing, and technical experiences urge me to gave them a chance and I got my expectations fulfilled. I can say that I am one of the happiest customers of DDevops and want to continue with them in the future, highly recommend others. Best of luck team!!
AVIANET
Arshad Mughal "General Manager & CTO"
When you are building a high-tech cloud based project there are a number challenges, one of them is to ensure a strong DevOps team.
DDevOps offer exactly this kind of experience and expertise we seek with in our partner echo-system.
Our global experience, blended with DDevOps AWS Cloud expertise ensure us to deliver the best breed of DevOps solutions to our high value customers globally.
GOPROT SARL
CEO "Saad Chkail
A consumer internet business with a very delicate & complex IT infrastructure requires intelligence and expertise. We have invested a lot of time into building a team that can help develop the vision and found it difficult to have a partner that will provide the infrastructure needed to do so. This was our struggle for many years until we partnered up with DDevOps to manage our servers and IT infrastructure. I am very impressed with DDevOps availability from a support standpoint, they seem almost 24*7, so this is another reason we are super happy with services.
4.6/5.0
by 100+ customers for 1000+ clients
Error: Contact form not found.